Machine Learning in Practice: Local Population Data to Anticipate Instability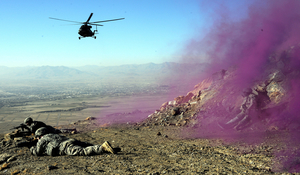 Speakers: Homer, D. (Fraym)
Date: 23 July 2020
Speaker Session Summary
SMA hosted a speaker session presented by Mr. Dustin Homer (Fraym) as part of its SMA General Speaker Series. Mr. Homer began by introducing the mission of Fraym, which is to understand local human populations around the world by mapping local communities and determining the socioeconomic breakdown of the people that live there. Fraym uses machine learning to collect data and map behaviors, ethnolinguistic characteristics, economic situations, and demographics of a population to the accuracy of 1 sq km. Mr. Homer stated that it is critically important to understand the people in these local communities, not only to determine how to engage with them from a security perspective, but also to anticipate and predict specific risks in these areas. This localized population insight is critical for strategic planning, anticipatory intelligence analysis, operational preparation, and information operations. Mr. Homer then discussed Fraym's methodology. He explained how they collect and acquire data, harmonize the data so it is workable, and then use machine learning to geotag and sort the data. The final product provides geospatial insight to what would normally just be graphs and charts. For the second half of his presentation, Mr. Homer provided specific examples of Fraym's work that, in practice, could be applicable to the defense and national security communities. The first example he used related to anticipating Boko Haram activity in Nigeria. Fraym's map charted the economy, land/transportation use, water supply, and communication and media access, among other things. Using this information, Fraym was able to determine the risk of Boko Haram violence with 90% accuracy. Mr. Homer emphasized that this is not just a population density map; the data used to produce the map can help one identify the main drivers and influence factors for these activities, such as economic inequality or access to public services. He added that looking at youth unemployment at a local level, as Fraym did with Boko Haram in Nigeria, can help predict influences for extremist group recruitment. Another example Mr. Homer provided was the economic drivers of unrest in Mali, which contains an epicenter for foreign military involvement and has a risk of increased jihadist attacks. By charting how economic inequality changed over time, Fraym was able to compare the decline in upper/middle class wealth with the corresponding decline in civilians' satisfaction with their government. Mr. Homer stated that displaying data in this way helps align economic and social perspectives and defense and national security practitioners understand why instability increases in specific areas. Finally, Mr. Homer stated that Fraym's reach can assist defense and national security practitioners by adding context to situations in strategic regions and explaining the behavior of geopolitical competitors.
Speaker Session Recording
Note: We are aware that many government IT providers have blocked access to YouTube from government machines during the pandemic in response to bandwidth limitations. We recommend viewing the recording on YouTube from a non-government computer, if you are in this position.
Download Mr. Homer's Briefing Materials