Raising Great Power Operating Costs: Strategic Opportunities in Central Asia – Tajikistan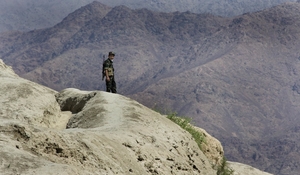 "Raising Great Power Operating Costs: Strategic Opportunities in Central Asia – Tajikistan"
Speaker: Bidoli, N. (US Army Special Operations Command (USASOC))
Date: 8 April 2019
Speaker Session Preview
SMA hosted a speaker session presented by CW4 Nickolas Bidoli (US Army Special Operations Command (USASOC)) as a part of its SMA NDU Speaker Series. CW4 Bidoli began by explaining the shift of focus in the 2018 National Defense Strategy (NDS) from countering violent extremist organizations (VEOs) to global competition with near peer adversaries. He discussed some of the former strategies that the US implemented to compete with other great powers during the World War I, World War II, and Cold War eras, in addition to the challenges that hybrid warfare presents. CW4 Bidoli then stated that despite this focus towards global competition, VEOs will continue to exist and pose security threats. He explained that although ISIS's physical caliphate has collapsed and its members have been dispersed, these fighters will reemerge. "Great power competition creates them, and great powers support them," CW4 Bidoli stated. He then provided his analysis of the National Defense Authorization Act (NDAA) with respect to both VEOs and great power competition (particularly with Russia), while highlighting particular sections that the US should reference when developing future strategy. CW4 Bidoli then focused on the nexus of great power/VEO convergence–Tajikistan's Gorno-Badakhshan Autonomous Oblast (GBAO). He discussed Tajikistan's political, security, and religious restrictions under the leadership of Emomali Rahmon's governance, as well as the nation's economic dependence on Russia. He then explained why GBAO is an essential zone for great power competition and outlined the US's opportunities to counter Russian primacy in this region. To conclude, CW4 Bidoli outlined a series of recommendations for US defense policy makers, while highlighting a whole of government approach and outlining ways to fully operationalize the NDAA.
Speaker Session Audio File
To access a recording of this session, please email Ms. Nicole Peterson (npeterson@nsiteam.com).
Download CW4 Bidoli's Biography and Slides