Using a Nuclear Security & Nonproliferation Approach to Reduce US-PRC Escalation Risks in a DPRK Collapse Scenario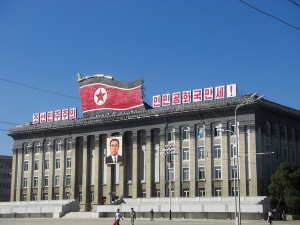 Speaker: Dr. Justin Anderson (NDU)
Date: 8 June 2023
Speaker Session Summary
Despite the deep freeze in US-China relations, the US and China have mutual interests that could reduce risk in a future DPRK regime collapse scenario. The US and China have prior experience successfully collaborating on nonproliferation initiatives, including standards for nuclear facilities and security measures relating to the storage and transportation of nuclear material. US and Chinese scientists have also collaborated in unstable and conflict-ridden countries, such as Nigeria, to collect and clean nuclear waste. Moreover, the US and China have signed bilateral nuclear agreements in the past and are two of the five permanent members of the UN Security Council, or P5. Their status as P5 countries provides the US and China an easy avenue for communication and litigation. Dr. Anderson stated that the US can try to increase bilateral communication, collaboration, and invite Chinese scientists to observe or participate in future nuclear exercises or try and better bilateral political relations in this DPRK regime collapse scenario. South Korea can also play a role in increasing the awareness surrounding denuclearization by hosting UN security conferences.
Dr. Anderson's analysis considered a potential future scenario where the North Korean government collapsed, and the country was plunged into a civil war with an uncertain outcome. South Korea, the US, and China would all be uncertain about the safety and security of North Korea's nuclear complex and nuclear arsenal in this scenario. These common concerns shared by Seoul, Beijing, and Washing would provide grounds for potential, albeit tacit and quiet, cooperation that could reduce confusion and conflict. Dr. Anderson emphasized both deterrence and diplomacy. He offered a few suggestions for South Korea in this scenario: 1) a potential multilateral conference on regional and nuclear safety, 2) multilateral discussion at UNHQ or IAEA on securing nuclear materials, and 3) tabletop exercises and/or Track 2 dialogues on arms control monitoring and verification. His suggestions for the US included: 1) supporting the Washington Declaration, 2) continuing to support the US-PRC Track 1.5, 3) supporting a P5 nuclear risk reduction center framework, and 4) continuing to build allied and partner capacity for on-site inspection while inviting PRC observation or participation.
Speaker Session Recording
A recording is only available to US government employees via Intelink video. Please email mariah.c.yager.ctr@mail.mil for assistance and additional information.
Briefing Materials
Recommended reading:
Biography:
Dr. Justin Anderson is a Senior Policy Fellow at National Defense University's Center for the Study of Weapons of Mass Destruction. His research focuses on deterrence (nuclear and non-nuclear), nuclear forces, and future nuclear arms control agreements and confidence-building measures (CBMs). Prior to joining the Center, he was a Senior Policy analyst at Science Applications International Corporation (SAIC), providing research and analysis on arms control, nonproliferation, counter-WMD, and deterrence issues to the United States Air Force (USAF), USSTRATCOM, Defense Threat Reduction Agency, and the OSD Office of Treaty Compliance. From 2009-10, in support of OSD Office of the General Counsel/International Affairs, he served as Editor of the Department of Defense Law of War Manual.
Dr Anderson, together with his co-author Lt Col James R. McCue, USAF, received the USSTRATCOM 2022 General Larry T. Welch Deterrence Writing Award (Senior Division) for their Spring 2021 Strategic Studies Quarterly article "Deterring, Countering, and Defeating Conventional-Nuclear Integration." He was also the lead analyst for an SAIC research team that received the 2011 Major General Robert E. Linhard for Outstanding Research from the Air Force Institute of National Security Studies for their paper Qualitative Considerations of Nuclear Forces at Lower Numbers and Implications for Future Arms Control Negotiations.
Dr. Anderson has taught at George Mason University, the Joint Services Command and Staff College (U.K.), King's College London, and Brookes University. He was a 2003 Marshall Scholar and a 2000 Carnegie Endowment for International Peace Junior Fellow. He has a PhD and MA in War Studies from King's College London and a BA in Diplomacy and World Affairs from Occidental College.