Jammu and Kashmir Reach Back: Media Analysis of Extremist Activities in Indian and Pakistani News
September 2019
No Comments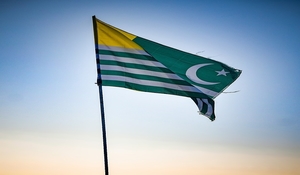 Jammu and Kashmir Reach Back: Media Analysis of Extremist Activities in Indian and Pakistani News
Authors | Editors: Cooley, S. (Oklahoma State University); Hinck, R. (Monmouth College); Utterback, R. (Monmouth College)
Executive Summary
The following study explored how extremist organizations may take advantage of the Kashmir crisis; it identifies prominent extremist organizations and stakeholder interests reported in Indian and Pakistani news media. Data was collected from 54 Indian and Pakistani news sources from May 16th to August 16th, 2019; a total of 437 articles were analyzed.
Extremist Organizations, Stakeholders, and Interests
Extremist organizations most prominently identified:
Indian media reports: Jaish-e-Mohammed, Hizbul Mujahideen, Lashkar-e-Tayyiba, Islamic State of Iraq and the Levant, Taliban, Pakistan Inter-Services Intelligence, ISIL- Khorasan, and Harkat-ul-Mujahideen.
Pakistan media reports: Rashtriya SwayamSevak Sangh as a Hindu terrorist organization committing acts of genocide against Muslims.
Taliban: US peace talks seen as empowering Taliban; bolstering their interests and increasing their influence in Jammu and Kashmir. LeT and Harkat-ulAnsar are shown as benefiting from Taliban protection. The expectation that the US will leave Afghanistan is seen as increasing the influence of the Taliban.
Local dissatisfaction:
Mass protests against local officials in Jammu and Kashmir. Local officials are perceived as failing to represent constituent interests, corrupt, and unable to deliver social goods.
Pakistani media argue India's regional clamp down and draconian policies exacerbate local tensions and hurt business leaders. Indian troops shown as routinely profiling mosques and conducting unfair cordon and search procedures.
Indian government:
Abrogation of Article 370 and 35A intended to end patronage system corrupting local officials in Jammu and Kashmir. Indian media describe the reforms as benefitting the local populace through economic development and educational opportunities.
Retaliatory tit-for-tat against Pakistani backed terrorists with the goal of killing and preventing terrorist infiltration. Indian media reports considerable success in these endeavors.
Pakistani media perceives India's goal as using "terrorism" as a shield to hide injustices against Kashmiris; India's strategy is described as following a policy of a "thousand cuts" similar to Israel's policy towards Palestinians.
Pakistan government:
Goal is to destabilize the region and support Kashmiri right to self-determination.
Attempts to internationalize the issue by highlighting human rights violations committed by Indian state; appeals are made to the international community to pressure India to oppressive policies in Jammu and Kashmir.
Extremist Organizations: Key Tactics and Targets
Coordination between Pakistan's ISI, and special forces, with terrorist organizations is described as focused on infiltrating the LoC and establishing launch pads for attacks in both border areas and Indian heartland. Pakistani government shown by Indian media as sanctioning attacks regardless of collateral damage to civilian population.
Shifting tactics reported by Indian media, include emphasis on the use of IEDs, including vehicle based IEDs, among terrorists in order to reduce the casualties within their organizations.
Terrorist groups are reported in Indian media as targeting corrupt officials in Jammu and Kashmir, Indian security personnel, as well as, rail transport, civil aviation centers, and economic infrastructure. Concerns are specifically expressed in Indian media over extremists targeting Armanath Yatra pilgrimage and disrupting rail construction/transport.
Focus on recruitment of dissatisfied youth by terrorist groups is shown in Indian media. Pakistani media emphasize Indian state-sponsored humanitarian atrocities and provide the assumption that the Indian government's goal is to erase Muslim culture and influence.
Areas most frequently discussed include: Pulwama, Srinagar, Anantnag, and Shopian.
Download Publication