National Will to Fight Amid 2020s/30s Technologies
September 2022
No Comments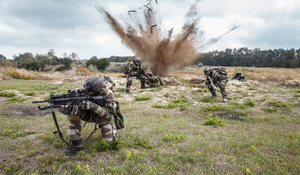 Speaker(s): McNerney, M. (Senior Researcher, RAND); Sharpe, A. (Director, Centre for Historical Analysis and Conflict Research); Demus , A. (Associate International/Defense Researcher, RAND)
Date: 13 September 2022
Speaker Session Summary
SMA hosted a speaker session with Mr. Mike McNerney (Senior Researcher, RAND), Maj Gen (Rtd) Andrew Sharpe (Director, Centre for Historical Analysis and Conflict Research [CHACR]), and Ms. Alyssa Demus (Associate International/Defense Researcher, RAND) as part of its SMA Mind-tech Nexus Speaker Series.
Military and state leaders have tried to understand and predict nations' will to preserve and fight through adversity. Mr. McNerney argued that it is possible to predict a nation's will to fight an invading force; however, conflicts throughout history—such as Vietnam and Afghanistan—demonstrate that the understanding of individual nation's will at a national level is poor. The question of will itself is large and difficult to scope, commented Maj Gen (Rtd) Sharpe. The speakers all mentioned areas of focus, factors, mechanisms, and contextual information that they believed influence a nation's will to fight. Several factors include, but are not limited to, civilian-military relations, popular support, governmental cohesion, and economic leverage. Technology is a tool that can help explain a country's will to fight.
Technology can be used to bolster or undermine a nation's will to fight. Russia's invasion of Ukraine is a good example of the role that technology can play. Both Russia and Ukraine are blending persuasion tactics with technical tools. Both make emotional appeals to their target audience, use symbols, and make their messaging repetitive and at a high volume. Ms. Demus stated that several tools used to build emotional connections include social media, legacy media (television and radio), and technical tools designed to reroute mobile and internet data. Ukraine has developed apps that capture and share information, causing emotional responses in both Ukraine and Russia. This media has proven to be a factor in building resilience among Ukrainians to fight against the Russian invasion. 
Speaker Session Recording
Briefing Materials