US Foreign Policy as a Global Power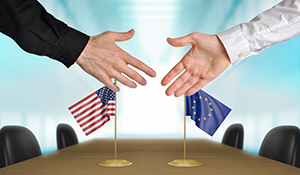 Question (R4.5): Does US foreign policy strike the right balance in supporting US interests and its role as a global power? Or, should the US consider a more isolationist approach to foreign policy? What impact could an isolationist policy have on Middle East security and stability, balance of influence by regional and world actors, and US national interests?
Author | Editor: DeGennaro, P. (TRADOC G27).
Executive Summary
US foreign policy makers struggle to find the right balance in supporting US interests particularly in the Middle East. Unbalanced policies, those focusing solely on defense while marginalizing diplomacy and development, are diminishing trust in the US and decreasing its influence—challenging US ability to maintain global stability and continue to support the security of its allies. Experts agree that the United States' ability to use statecraft has diminished due to two long-term conflicts and continued spread of the Iraq conflict into Syria.
The Middle East is a particularly challenging area of operations for the United States. Historically, military interventions in the region have resulted in rising instability and competition between states leaving many of the weaker parties—Lebanon, Jordan, Syria, Yemen, and the Palestinian territories— subject to interference from the Arab Gulf countries and Iran, terrorism, and internal conflict. It is a region that is often misunderstood by most Americans due to differences in culture, disunion, religion, and group (families, clans, tribes etc.) identities and dynamics. Additionally, the region is increasingly difficult to understand due to radical group destabilization efforts.
Our contributors agree that US interests in the Middle East are focused on the free flow of oil, safeguarding allies and partners, ensuring continued nuclear nonproliferation, and combating terrorist groups that target the US and its allies. Specific US narratives in the region focus on improving democracy and human rights; however, actions like the intervention in Iraq, the focus on regime change in countries like Libya and Syria, and the inability to resolve the Israeli-Palestinian conflict debunk those narratives across populations.
In response to the question regarding reverting to a policy of 'isolation," experts feel that this is not a plausible alternative since the world is becoming more interconnected. However, this does not mean the US must continuously intervene. More precisely, the US must reevaluate how it intervenes with smarter, more comprehensive policy beyond the extensive use of the military. A US isolationist policy would likely increase instability and tensions between Saudi Arabia and Iran while opening doors to their continued use of proxy sources to engage in protracted conflict ensuring that Middle East stability would become unattainable. On the other hand, those that feel US policy is contributing to marginalization of groups and support of brutal dictatorships and monarchies would most likely welcome a US exit.
Fred C. Hof, Director, Rafik Hariri Center for the Middle East, Atlantic Council, reminds us that the issue is not a theoretical question of 'balance' [or isolationism]. The issue is one of competence, with the emphasis on decision-making and communication." I would add a well thought out comprehensive policy and strategy to improve conditions in the region giving the youth opportunities to prosper instead of fight would be beneficial. Hof also states, "The thesis of intractable ancient conflicts rooted in religion and ethnicity is as faulty in the Middle East as it was in Europe." The US insistence that this is true and that policy must therefore focus on these issues handicaps its ability to remain influential there.
Finally, US policy has been predominantly lethal military action over the last several decades with little diplomatic effort—exacerbating, not easing, one of the worst humanitarian crisis in history as well as economic hardships and the spread of terrorism. Look no further than US aid entering the region. Essentially it is all military support—one can point to Israel, Saudi Arabia, Egypt and other Gulf countries. There is little done to balance military action with other forms of statecraft. Our experts point out the need for economic, financial, or multilateral cooperation tools in order to change the current situational environment.
Contributing Authors
Perry Cammack (Carnegie Endowment for International Peace), Munqith Dagher (IIACSS), Patricia DeGennaro (TRADOC G27), Fred C. Hof (Atlantic Council), Karl Kaltenthaler (University of Akron/Case Western Reserve University), Mark N. Katz (George Mason University), Spencer B. Meredith III (National Defense University), Daniel Serwer (Johns Hopkins School of International Studies), Janet Breslin Smith (Crosswinds International Consulting)
Download Publication