Why Trust Matters in AI? How Can We Achieve It?
September 2023
No Comments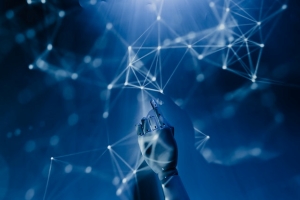 Speaker: Dr. David Bray (Stimson Center)
Date: 5 October 2023
Speaker Session Summary
The capabilities and implications of artificial intelligence are frequently discussed throughout all sectors of society. Among the many questions asked is, how can human users trust AI? Dr. Bray emphasized that the first step in understanding whether humans can trust AI, is to define trust. Individuals will readily give their trust to either a person or organization if they perceive benevolence, competence, and integrity. While well-programmed AI can imitate having these traits, it cannot possess them. It is better to think of AI as an alien interaction rather than a human interaction. This is because AI is a computationally-based program that works differently than a human brain, making it impossible for AI to possess these traits or express real emotions. It is not surprising that humans have tried to attribute real intelligence to AI, because of a tendency to anthropomorphize both objects and animals. To understand the current state of AI, it is important to understand its evolution during the last two decades. Dr. Bray identified four separate significant evolutionary stages during his presentation. The first of these stages was during the early 2000s when AI's main purpose was to better understand human decision-making. The last evolutionary period was from 2017-2019 and focused on counter-disinformation. AI uses large language models (LLMs) to read and process data. Dr. Bray emphasized the need to use what he called AI-PRAMs (Probe, Reason, and Assess Models) to test the LLM's findings against existing and real-time insights. He also stated that generative AI should never be used to make decisions regarding someone's health or national security. A human decisionmaker should always be involved in those situations. He stated that the Turing test is usually used to assess the effectiveness of AI's ability to trick the user into believing they are acting with an intelligent lifeform. Dr. Bray suggested that the Turing test may not be the best test for assessing the usefulness of AI. Instead, a test could be used that does not focus on deception, but rather the AI's ability to help humans make decisions.
Speaker Session Recording
Briefing Materials
Slides:
Recommended reading:
2023 update of the 2019 MIT Sloan Article on People-Centered Design principles for AI: https://www.linkedin.com/pulse/from-2019-updated-2023-three-people-centered-design-deep-bray-phd?trk=public_profile_article_view
Stimson Center 2023 Global Artificial Intelligence Infrastructures Report: https://www.stimson.org/2023/2023-global-artificial-intelligence-infrastructures-report/
Artificial Intelligence and Public Service: Key New Challenges: https://napawash.org/standing-panel-blog/ai-services-to-citizens-in-2023-and-beyond
Biography: Dr. David A. Bray is both a Distinguished Fellow and co-chair of the Alfred Lee Loomis Innovation Council at the non-partisan Henry L. Stimson Center. He is also a non-resident Distinguished Fellow with the Business Executives for National Security, and a CEO and transformation leader for different "under the radar" tech and data ventures seeking to get started in novel situations. He is Principal at LeadDoAdapt Ventures and has served in a variety of leadership roles in turbulent environments, including bioterrorism preparedness and response from 2000-2005. Dr. Bray is the Executive Director for a bipartisan National Commission on R&D, providing non-partisan leadership as a federal agency Senior Executive, works with the U.S. Navy and Marines on improving organizational adaptability, and U.S. Special Operation Command's J5 Directorate on the challenges of countering disinformation online. He has received both the Joint Civilian Service Commendation Award and the National Intelligence Exceptional Achievement Medal. David accepted a leadership role in December 2019 to direct the successful bipartisan Commission on the Geopolitical Impacts of New Technologies and Data that included Senator Mark Warner, Senator Rob Portman, Rep. Suzan DelBene, and Rep. Michael McCaul. From 2017 to the start of 2020, David also served as Executive Director for the People-Centered Internet coalition Chaired by Internet co-originator Vint Cerf and was named a Senior Fellow with the Institute for Human-Machine Cognition starting in 2018. Business Insider named him one of the top "24 Americans Who Are Changing the World" under 40 and he was named a Young Global Leader by the World Economic Forum. For twelve different startups, he has served as President, CEO, Chief Strategy Officer, and Strategic Advisor roles.