Why Extremist Insurgencies Spread: Insights from the Sahel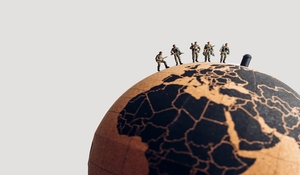 Speaker(s): Boukhars, A. (Africa Center for Strategic Studies, National Defense University; McDaniel College)
Date: 10 January 2023
Speaker Session Summary
SMA hosted a speaker session with Dr. Anouar Boukhars (Professor of Countering Violent Extremism and Counterterrorism, Africa Center for Strategic Studies, National Defense University; Associate Professor of Political Science, McDaniel College) as part of its SMA "Anticipating the Future Operational Environment" (AFOE) Speaker Series.
Violent extremist organizations (VEOs) operating in the Sahel have perpetrated long-lasting insurgencies for more than a decade, causing widespread loss of life and regional instability. These insurgencies have also weakened regional governments' ability to provide basic goods and services to their citizens. Dr. Boukhars stated that West African states are preparing for their own insurgencies, blaming their proximity to the Sahel region and the worsening insecurity and violent extremism there. He emphasized that a contributing factor to the contagion of violent extremism in Africa is countries' unwillingness to be introspective. States frequently blame their stability issues on their proximity to others with existing insurgencies. However, internal dynamics that weaken government trust and aggravate social grievances are strong antecedents of insurgencies themselves. Efforts by governments to cut the financial flows of VEOs (e.g., closing certain markets and restricting the movements of pastoralists), for example, usually hurt their own civilians' livelihoods.
States too frequently emphasize the roles that criminal networks and ethnic ties spanning international borders play in the growth of VEOs as well. Dr. Boukhars highlighted that a single ethnic group is frequently used as a scape goat for a country's instability, such as the Tuareg in Mali. Moreover, he stated that many soldiers in these organizations do not believe the extreme rhetoric that is often preached. Instead, these soldiers join for protection against aggression or to ensure their family's socioeconomic wellbeing. Many militant organizations even gain control by offering mediation to community conflicts. Dr. Boukhars emphasized that it is crucial for states to redouble their efforts to manage resources and community level disputes if they are to stop immerging VEOs before they become established. 
Speaker Session Recording
Briefing Materials
Biography:
Dr. Anouar Boukhars is a professor of countering violent extremism and counterterrorism at the Africa Center for Strategic Studies, National Defense University. He also serves as associate professor of political science at McDaniel College. Dr. Boukhars is the author of Politics in Morocco: Executive Monarchy and Enlightened Authoritarianism (Routledge, 2010) and coauthor of Salafism in the Maghreb: Politics, Piety, and Militancy (Oxford University Press, 2019). He is also the coeditor of Perilous Desert: Insecurity in the Sahara (Carnegie Endowment for International Peace, 2013) and Perspectives on Western Sahara: Myths, Nationalisms and Geopolitics (Rowman and Littlefield, 2013).